The inevitability of a fairytale narrative can often be more powerful than skill, judgement or even the will of the gods. And as Ronaldo Nazario impatiently waited on the Stadio Olimpico touchline in April 2000, there was a feeling of resignation among the Lazio fans that there 2-1 lead was soon to be reduced to rubble.
The golden boy of Serie A was back from a lengthy injury layoff, and with the bit firmly between his teeth, he was ready to make up for lost time in the Coppa Italia final. Unfortunately, 12 April 2000 will forever be remembered as the evening that we waved goodbye to the explosive, unstoppable Ronaldo we knew at that time.
That's not to say that O Fenomeno did not go on to have one of the most remarkable careers in history, and he did cement his place in football folklore for the rest of its existence. But as with any player who suffers a career-threatening injury, there is always the lingering feeling of 'what if?', which engulfs the remainder of his playing days. And when Ronaldo arrived in Milan in 1997, there were no what ifs or buts about it – this boy was going to be the very best striker in history. The starlet was rising to every challenge that came his way, scoring 54 goals in 57 matches for PSV Eindhoven in his two seasons before joining Barcelona, and then achieving 47 strikes in 49 appearances for the Catalan giants.
Unsurprisingly, he was rewarded with the World Player of the Year prize, aged only 21. And yet, Barça let this superstar slip through their fingers, all over a silly contract dispute. With his future at Camp Nou uncertain, Inter saw their chance to make a marquee signing, and to throw down the gauntlet to the rest of Serie A.
I Nerazzurri broke the world record transfer fee to sign Ronaldo, paying his then-hefty release clause of €27m. But for those of us who don't remember the genius as a younger lad, what kind of player were Inter actually landing?
Ronaldo was the most complete striker in the world. If you were asked to build the perfect centre-forward in a laboratory, you probably couldn't manufacture a finer or more well-tuned specimen than the Inter man.
[embedded content]
If you edited a Playstation character and gave them 99 speed, dribbling, finishing, and strength, they would still be slower, sloppier, less clinical and more fragile than Ronaldo in 1997. The youngster had everything.
Although, you wouldn't have thought so on first inspection. He was stocky, and anyone could have been forgiven for underestimating him at a quick glance.
And many defenders did. But they would only be forgiven once Ronaldo had punished them beyond belief, running endless rings around his markers and making helpless goalkeepers redundant for 90 minutes.
There was something so natural and fluid about the way Ronaldo moved with and without the ball, where you could only gape and marvel at his beauty, like tuning into a documentary on the earth's most misunderstood and mystical creatures.
Watching Ronaldo run with the ball was like witnessing a wildebeest sprint at full speed, but this particular model boasted the physical attributes of an American bison, as he attacked the earth beneath him with each pounding step. Despite this brutish strength, his grace was uncanny, his ability to dance through seemingly solid tackles was unnerving, and his switching between gears was simply breathtaking.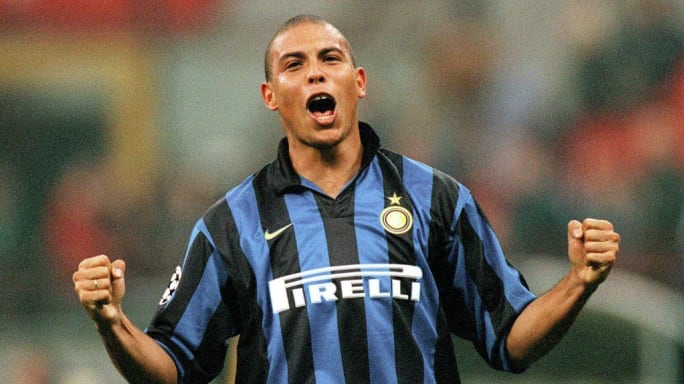 Ronaldo was a freak of nature, one which even the great creator Himself would have struggled to construct.
And the human cyborg treated Serie A viewers to some staggering displays over the course of his first season, adapting immediately to the demands of Italian football, and tearing apart the supposed best defences in world football.
The Brazil star banged in 25 goals in 32 league matches that year, and he starred in their UEFA Cup campaign, scoring six goals over the course of the competition. And it was in the final that he demonstrated to the world just what he was capable of, putting in one of the greatest individual displays in football history.
Inter's opponents on that night were Lazio, but they were unable to put up any form of a fight against the irrepressible Nerazzurri. Ronaldo was the star of the show, scoring the third and final goal of the match in classic fashion. And it speaks volumes of the man, that at the tender age of 21, he had already earned his own trademark move.
Breaking the offside trap, the number 10 squared up to the Lazio goalkeeper, and with a swift shimmy and a shake of the hips, his adversary was on the floor, as if he had succumbed to the hypnotic trance of Ronaldo's movement.
And as with any great player, he made everything look so simple. Ronaldo tortured the Lazio defence that evening, dropping deep to draw players out of position, picking the ball up and charging directly at the heart of their defence, and firing thunderbolts from just about anywhere he fancied.
The biggest of performances had come on the grandest of stages, and after narrowly (and controversially) missing out on the Serie A title to Juventus, I Nerazzurri were ready to go one step further the following season.
But it wasnt' to be.
The 1998/99 campaign was a complete write off, as Inter finished eighth, and Ronaldo began to struggle with injury issues. But even if the world's greatest player was stuttering with knocks and setbacks, his performances remained equal to his impeccable standards. O Fenomeno ended that season with 14 goals in 18 league starts, and he was now burdened with the captain's armband for the Italian club. The 1999/00 season began with plenty of optimism once again, but it was to be the most devastating year of all. A ligament injury suffered against Lecce in November forced Ronaldo to miss a huge chunk of the campaign, and without their talisman, Inter were simply not the same – even after spending huge money on Christian Vieri.
But Ronaldo returned in May to the delight of everyone in football – except possibly his opponents on the day, who he'd tormented on the world stage not so long ago. He was desperate to make amends, and with the score poised at 2-1 to Lazio in the Coppa Italia final first leg, the stage was set for the superstar to announce his comeback.
The away fans were quickly lifted off their seats in anticipation, when Ronaldo latched onto a flicked header, and faced the increasingly anxious defender in typical style. It was a play we'd all seen before. And we knew how it ended – with the goalkeeper picking himself up off the floor, and scooping the ball out of the net.
But if the supporters were now on their feet, they'd soon be sinking to their knees in horror.
12 de abril de 2000. Hoy hace 20 años. Ronaldo volvía a jugar tras 5 meses lesionado, contra Lazio. Tan sólo 6 minutos después de entrar, cae y se rompe totalmente el tendón rotuliano de la rodilla derecha. 17 meses más por fuera. A todos nos dolió. pic.twitter.com/BdHgVbrJFW

— Juez Central (@Juezcentral) April 12, 2020
As Ronaldo was producing his usual twists from left to right, tying his marker up in knots, his right knee buckled beneath him. He hit the floor, screaming in agony with tears springing to his eyes. It was bad. The reaction of Lazio's players, who immediately signalled to the bench for medical attention, told us as much.
Stricken, the Inter star was placed on a stretcher and carted away from the Olimpico. It was a moment of true despair for the football world, which was robbed of witnessing the world's biggest talent dazzle us for the entirety of the next season.
Ronaldo would of course go on to lift the World Cup and win the 2002 Golden Boot for his country, becoming an undeniable legend of the sport, and he would enjoy some stellar seasons at Real Madrid off the back of his success in Japan and South Korea.
But it tells us all we need to know about the player that even after achieving such a glistening career, which reached some of the most glorious heights that the 21st century has ever seen, that night at the Stadio Olimpico still leaves such a bitter taste in our mouths.
Sadly, the truth is that the Ronaldo who left Rome that night, would never return.
Let'